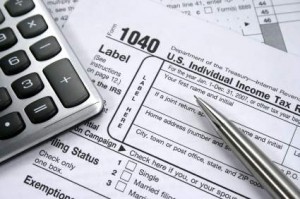 Written by Charleston Bankruptcy Lawyer, Russell A. DeMott
Having enough tax withheld is critical for your financial success. In my Charleston bankruptcy practice, I see lots of tax problems.
Clients usually owe the IRS or the South Carolina Department of Revenue.  We can usually Using Bankruptcy to Discharge Tax Debt or repay it in a Chapter 13. But it's important to figure out why the client owes taxes.  Is he self-employed and just didn't put enough away? Is his spouse's withholding too low? Did she fail to sets aside enough tax after cashing in an IRA?
There are many circumstances at the core of the problem. However, the root cause in many cases is that the client simply  didn't have enough tax withheld from his wages.
Balancing your budget by borrowing from Uncle Sam is a really bad idea.
The problem is that if you get behind, the IRS will send your employer a "lock-in letter" requiring you employer to withhold what the IRS deems appropriate–usually as if you had zero exemptions or deductions.  You're no longer in the withholding driver's seat, Skippy.  And rest assured, the IRS will have plenty of tax withheld. Ouch!
And if you're in a Chapter 13 and get behind on post-petition taxes (those you owe after you file your bankruptcy), your case will be dismissed. Neither the IRS or the bankruptcy court takes failure to pay taxes lightly. As California bankruptcy guru Cathy Moran explains: "I explain it to clients this way:  the bankruptcy system is willing to protect you from existing creditors through a Chapter 13  if you straighten up and fly right.  But if you continue to live above your means, the system will wash its hands of you."
Take action now!
If you've been having your taxes under withheld, take action now.  You need to see a CPA or tax preparer.  Take your latest pay stub. Find out what your withholding should be and what you need to send in directly to catch up for your under withholding this year.
Other thoughts
And if you've been shorting Uncle Sam to pay your bills–especially credit card bills or other unsecured debt–it's time to explore your bankruptcy options. I'm not saying this automatically means you should file bankruptcy, but it does mean you should sit down with a bankruptcy lawyer and review your finances.  You need a plan for dealing with the problem, not a short-term solution which will just get you into more trouble at tax time. Be proactive, not reactive!