Written by Charleston Bankruptcy L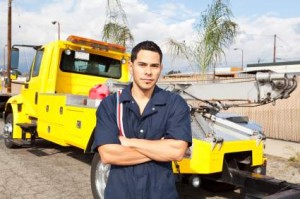 awyer, Russell A. DeMott
Bankruptcy can help you stop repossession and even allow you to get your vehicle back after it's been repossessed.  Shooting the repo man is not only a serious crime, it's also unnecessary.
Do some searches about repo men and shootings, and you'll find that this is a real problem.  You may come across "In Killing Repo Man, Law Shields Killer," "Another Texas Repo Man Shot!" or even "Repo Man Killed, One More Shot in St. Augustine."
In fact, it turns out that this is a problem for repo men everywhere–especially in Texas where it's pretty much legal to shoot anyone who gets on your nerves. (You've heard of the "wild west," right?)
Who is the repo man?
Let's get some perspective here–and those of you in Texas, pay special attention.  The repo man is just a guy trying to earn a living.  He might have a a wife and ten-year-old son he wants to come home to.  As he does his job, maybe he looks forward to throwing a baseball with his son.  He's a real person.  And he's been sent out to repossess your car because–surprise, surprise–you haven't made the payments on it.
Some things you need to understand
There are some important things to keep in mind about the repo man:
While this may seem self-evident, it's not his fault you haven't made your payments.  Sure, it might not be your fault, either.  Maybe your employer downsized you out of  a job.  Maybe you got divorced and your ex husband's a bum and won't pay his child support on time.  There are lots of maybees.  Still, the repo man has nothing to do with any of these things.
The repo man can't "breach the peace" to repossess the vehicle.  He can't threaten you with a gun or break into your garage.  (Hint: keep your car locked up if you don't want it taken. This will buy you some time to explore other options–like Chapter 13 bankruptcy or perhaps getting caught up on the loan.)
You can't breach the peace, either! Shooting the repo man is a crime in most places–certainly in South Carolina.  Don't even think about it.  It's a car, not your child.  It's just not worth it.  The world is awash in cars.  You can get another no matter how bad your credit might be.  And again, remember the repo man is just a guy doing his job.  Let him take it, then call a bankruptcy lawyer.
And then there's a beautiful thing called Chapter 13
With a Chapter 13 bankruptcy, you stop the repossession and do some things to make the car much more affordable:
You may be able to "cram down" the vehicle, paying off the value of the vehicle in your Chapter 13 plan, rather than the balance on the car loan.  For example, if you owe $20,000 on the vehicle, and it's only worth $10,000, you can pay the auto lender $10,000.
You can pay off the vehicle at a much lower interest rate, currently set by our bankruptcy court at 5.25% here in South Carolina.
You can pay off the vehicle over a five-year Chapter 13 plan, which effectively lowers your monthly payments by allowing you more time to pay off the vehicle.
Give me an example!
Let's say your car payments are $518.96 per month.  Your interest rate is 9%, and you owe $20,126.43.  Let's further assume the vehicle is only worth $15,000.
In a Chapter 13, you could cram down the amount paid back to the value–$15,000, lower the interest rate to 5.25%, and repay the vehicle over five years.  Your new payments is now $284.79!  In addition, you might have a large amount of other debts–say credit cards or medial bills.  You can pay back a much lower amount on those unsecured debts, too–as low as 1%.
Know your rights.  Instead of "shooting the messenger," do something constructive and explore your Chapter 13 bankruptcy options.
Post script: If you obtained a loan to purchase the vehicle for your use within 910 days (about 2.5 years) prior to your bankruptcy filing, you can't cram down (or "value") the vehicle.  You can, however, lower the interest rate as discussed above.  Make sure you tell your bankruptcy lawyer when you financed the vehicle and who uses the vehicle.  For more on this, check out "South Carolina Bankruptcy Lawyer Unleashes Vulcan Intellect on the Hanging Paragraph."