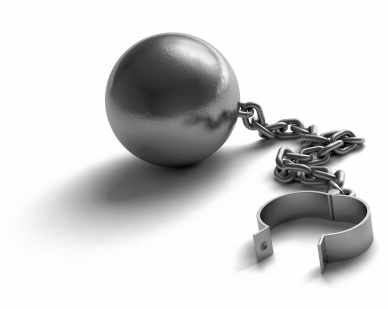 Written by Charleston Bankruptcy Lawyer, Russell A. DeMott
In parts one and two, I explained secured debts, liability, and some history behind the law of reaffirmation agreements.   I left off by pointing out that if a debtor fails to sign a reaffirmation agreement, the automatic stay is lifted earlier than normal.
What the secured creditor has the right to do next really depends on state law.
What Does this Mean?   What about State Law?
Well, we're talking about South Carolina here.   And there's more uncertainty.
We know that the automatic stay is lifted if you don't reaffirm, right?   But that happens anyway.   The real question is this: Does South Carolina law allow the creditor to repossess the collateral solely because the debtor files bankruptcy?   (We call this the ipso facto clause in the contract.)   Under South Carolina Code section 37-5-109(2), which governs when a creditor can deem something a default under South Carolina law, the creditor may repossess the collateral if there has been a default in payments or "prospect of payment, performance, or realization of collateral is significantly impaired."
Is a bankruptcy discharge–which terminates the debtor's personal liability–a significant enough impairment?   Or is there no impairment as long as payments are timely?   My opinion is this: the proof is in the pudding.   If the creditor is being paid timely, how can the creditor be impaired?   37-5-109(1) plainly provides that if the consumer is 10 days late on payments, the creditor may send a notice of default as provided in 37-5-110.
As of this writing, there's no decision on this issue.   So it's unclear whether, in South Carolina, merely failing to reaffirm would justify a creditor's repossession under the South Carolina Consumer Protection Code.
I'm So Confused!   Just Tell Me What to Do!
My advice in most situations—after trying to explain all this—is to simply retain and pay.   Don't sign the reaffirmation; just keep paying.   And pay on time!
Why?   As a practical matter, creditors are not repossessing vehicles as long as payments are being made.   This is because of three things: (1) the law is uncertain as to whether they can, as noted above, (2) the reality of the situation, and (3) how our bankruptcy court handles reaffirmation agreements (which I'll discuss in part four).
What's the Reality of the Situation?
The reality is that most clients have little or no equity in their vehicles.   The vehicle is, as car sales types like to say, upside down.   You owe more than what it's worth.   And if a lender is getting timely payments, isn't this better than repossessing the vehicle and selling it at auction for thousands less than the fair market value of the vehicle? That course of action results in an immediate loss.
For example, if the vehicle is worth $15,000 and you owe $16,000, if there's a repossession, the vehicle might be sold at auction for $9,000!   The creditor just caused itself a $7,000 loss!   And remember, the lender can't come after you for the deficiency.   You got your discharge and didn't reaffirm!   Creditors do some stupid, self-destructive things, but they generally aren't that stupid.   It would be like pointing a shotgun at your foot and pulling the trigger.
But What if they ARE That Stupid?
That raises a valid point.   And to that, I say, Let them Eat Steel.   Let them take the car.   You have little or no equity in your vehicle anyway!   And the world is awash in used cars.   Just get a cheap one for $5,000 or $6,000.   Yes, your interest rate will be high, but you're not financing that much anyway.   Once you get down the road—pardon the pun—a couple of years, your credit score will improve, and you can get something nicer.   I've driven older model used cars before, and it never hurt me.   You can do it, too.   Again, it's only for a couple of years.
Wait! I Have Equity in My Car!
If you have equity in your car, then there's more to consider.   We'll discuss that in "Bankruptcy Reaffirmation Agreements (Part Four)."   We'll also discuss the procedure our court uses here in South Carolina for dealing with reaffirmation agreements.