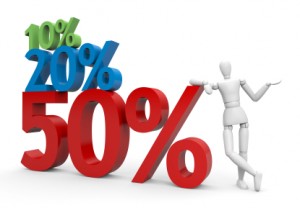 Written by Charleston Bankruptcy Lawyer, Russell A. DeMott
It happened again today.   I got a call about "it."   Specifically, the lady wanted to know how much "it" was.   What was the "it" she called about?   Well, she said she had a "simple" bankruptcy case and wanted to know how much "it" was.   That's it–pardon the pun–just how much "it" was going to cost for her "simple" case.
I have a confession to make.   When I get calls like this, it bothers me.   And I've decided to tell you why calls about "its" cost bother me so much.
Each Case Is Unique
Each case is unique.   I said this so much when writing content for my bankruptcy site, one of my friends said, "you've said 'each case is unique' several time in here.   Maybe you should replace it with something else.'"   Well, I didn't.   Why?   Each case is unique.     And repetition aids learning.   Did I mention that each case is unique?
Do you really want me to treat your case just like everyone else's?   You're up to your eyeballs in debt, right?   Can't sleep?   Maybe fighting with your husband?   Stressed out? Fixing this financial mess is something you want done right, isn't it?   Why should I assume your case is a "routine" case when I know nothing about it?
How Much Is a Car?
Huh?   Well, think about that a minute.   How much is a car?   Hopefully, you get the point.   Is it a big car?   Little car? New one? Used?   Or perhaps a truck like I drive?   V-8?   Fuel efficient?   Oh, and how many doors?   I forgot to ask.   What will you use the car for?   See what I mean?
How can I tell you how much I'll charge you for your bankruptcy on the phone?   Will it be a Chapter 7?   Or a Chapter 13?   Is there a business involved?   Exemption problems?   Over median income?   Under?   Do we have to run the means test?   Will you pass?   Will I have to spend more time making sure you have all available expenses counted on the means test?   Or should I just throw you in a Chapter 13 because I don't want to spend time on your file since you were so concerned about the cost of "it"?   You get the picture–I hope.
But She Said She Had a "Simple" Case!
And maybe she's right.   But is she qualified to know if her case is simple?   It's like me saying, "hey, doc, it's really simple surgery" with a quick "how much is it?" thrown in.
Seriously though.   How would a client be qualified to analyze their own bankruptcy case and conclude that he has a routine, simple case?   How would the client know?   Yes, sometimes the client might be right about the case being simple.   And sometimes I make good stock picks, too.   Everyone gets lucky from time to time–even me with my stock picks.
Keep the Big Picture in Mind
I know money's tight.   I'm sympathetic to your situation.   But you have a boatload of debt, right?   Why should someone with $97,000 of unsecured debt really concern themselves with what their bankruptcy lawyer charges?   Let's say the total cost of the attorney fee, filing fees, and other costs is $3,000–maybe you have some issues in your case requiring extra attention.   Now let's think about this a minute.   You owe the credit industrial complex–as one of my friends calls it–$97,000, and you're concerned about the $3,000 fee, why?   You want the debt GONE.   You want an attorney who'll spend the time with your file so that absolutely everything will be done to get you out from under this mountain of debt.   Why would you choose an attorney on price?
There's a Lot of Work in Any Bankruptcy Case!
Even with a simple bankruptcy case–one that really is, relatively, simple–there's a lot of work for your bankruptcy lawyer to do.   And then there's his secretary and paralegal; they do lots and lots of work, too.   Hours and hours and hours of work.   Picking bankruptcy lawyers based on fees is a bad idea.
I'll Tell You What It Costs When I Evaluate Your Case
I do quote a fixed fee for my clients.   But I only do this after I evaluate their cases carefully. So please don't call me and ask how much "it" is!   Oh, and did I mention that each case is unique?