Written by Charleston Bankruptcy Lawyer, Russell A. DeMott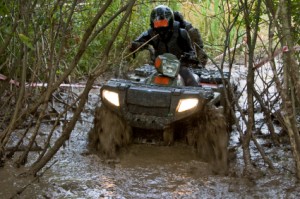 It started with a text message from my friend, Frank. "Skeet shooting? 4-wheelers?," it said.   I figured he meant one or the other, both of which I enjoy.   So I called Frank and he gave me directions to a local sportsman's club.   Both skeet shooting and four wheeling? I asked.   "Yes, both," Frank replied.   And that was all it took.
So I got in my truck and headed out to the club.   I had a great time, especially running my four-wheeler through long trenches filled with water–it had just rained.   The club has hunting, four-wheeling, camping, and a small cabin with a bathroom, shower, stove, and a refrigerator.   Oh, and one of the member's stocks snack chips in local grocery stores, so when the chips are expired by one day, guess where they end up?
All this led me to ask, What are the rules?   And to that question came a surprisingly simple response: Don't do anything stupid.
This, in turn, reminded me of my friend's admonition to his teenage children before they went out for the night: Don't do anything stupid, which was followed by a quick, do I have to define stupid?   I like this so much, I use it with my own kids.   Of course, they roll their eyes and answer, no, dad, you don't have to define stupid. But I think it's working, I hope.
It's just hard to define stupid.   And people should know stupid when they see it, shouldn't they?
It's kind of like comedian Bill Engvall's Here's Your Sign! jokes.   Take the one about the deer crossing sign:
Engvall's wife says, Why do they put those deer crossing signs up? Deer can't read.
Engvall's reply: No, but they can recognize pictures of themselves. Here's your sign.
So while I can't define stupid, I know of some things bankruptcy clients can do to cause big problems in their cases. Take a look at the Bankruptcy Don'ts on the resources page of my website for a list of things you shouldn't do.   And this list is by no means exhaustive, so if you have doubts, ask your bankruptcy attorney!  By using good judgment about things, you'll help ensure the success of your bankruptcy case.  Poor decisions can be costly.   We care and want your case to be as successful as possible.