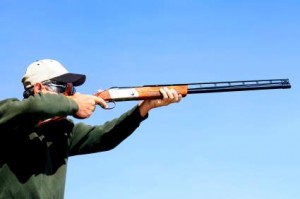 Written by Charleston Bankruptcy Lawyer, Russell A. DeMott
Filing bankruptcy involves assembling documents for your lawyer–lots of documents.   If you don't know this yet, well, Grasshopper, you have just begun your quest to learn about bankruptcy law.
And here's one key thing to remember: It's a moving target.   (Hence picture of the guy with the gun to the left.)
It's Like Skeet Shooting
This all brings back memories of skeet shooting with my dad when I was in high school.   For Christmas my 9th grade year, my parents bought me a 20 gauge Remington model 1100 shotgun.   It was the happiest day of my life.   From around 9th grade through the end of high school, my dad and I would go to the gun club on the weekends to shoot skeet.
Dad grew up shooting skeet and was incredibly good at it, occasionally breaking 100 targets in a row.   As for me, well, I wasn't so good at it, but I had fun.   I have fond memories of being on the skeet field during those Michigan winters, snow coming down, clay targets being flung out of the two "houses" (high and low).   The wind blew the clay pigeons this way or that, sometimes making them fly very slowly or very quickly.   It made hitting them difficult at times, especially in really bad weather.
One of the first thing you learn in skeet shooting is to keep your gun moving.   If I heard it once, I heard it a thousand times: "keep swinging your gun."   Why? Because the target was moving.   Skeet shooting isn't about hitting a fixed target; it's about hitting a moving target–the clay pigeon.   If you stop your gun, you'll shoot behind the target every time.   So you lead the target–aiming in front of it–and keep the gun moving to maintain that lead.   And if I missed, I generally heard dad say, "you stopped your gun," meaning I shot behind the target.
Bankruptcy Is About Documents
There are three sets of documents that need updating in bankruptcy.   First, you must provide your bankruptcy lawyer with "pay advices" (pay stubs) for the six months prior to the month in which you file.   For example, if you file bankruptcy in October, you must provide your attorney with pay advices for the months of April, May, June, July, August, and September.     You must also file any pay advices received in the 60 days prior to your filing.   "But that's August and September," you say.   Not necessarily.   If you file on October 31, you would have received pay advices in October.   So you'd have to file the October pay advices as well as those received in September.   This also holds true for profit/loss statements if you're self-employed, with the exception of the requirement of filing those with the court for the 60-day period.   (We just need Profit/loss statements for the six-months, not for the month in which you file.)
Second, most trustees require you to provide them with bank statements for three to six months prior to your filing, including the statement covering your filing date.   (And don't forget to provide your attorney with exact bank balances on the date of filing!)
Third, depending the time of year, you may be in the process of filing tax returns, so copies of your returns need to be provided to your attorney, and if you file a return while your case is open, you'll need to provide that to your attorney.
Bottom Line: You're Shooting at a Moving Target
If you file in December, instead of October, what you must provide your attorney changes.   Don't tell her, "I gave you six months of pay advices and those bank statements you requested."   Yes, you did, but the target moved.   So she now needs November and any pay advices and bank statements for December.
Every time you delay filing another month–or even a week or two–your target moves.   This is why there are so many filings on the last day of the month.   If you wait until the next month, the target has moved and we need to update your bankruptcy schedules.   It's pain, it's pointless, but it's the law.
I'm Not Asking for These Documents Because I'm Curious
The flawed logic behind making you provide pay advices is that it will help determine whether you should be allowed to file Chapter 7 bankruptcy, rather than be forced into a Chapter 13 payment plan bankruptcy.   I've done this for over fifteen years.   In about 95% of the cases I handle, it takes me about 3.9 seconds to figure this out.   I don't need a statistics project to make that determination.   Neither does the judge, the trustee, or the U.S. Trustee.   All we need to know is what you're making now and for the foreseeable future. (That's what we list on Schedule I and J, your income and expense schedules.)
Moreover, most pay advices have year-to-date figures on them, which must be reported on your Statement of Financial Affairs.   That figure is relevant. But some arbitrary six-month period prior to filing is really meaningless.   And it's not my idea to make you give me all those pay advices so I can calculate, down to the last dollar, your average income for this fantasy football, magical, six-month period.   I'm not doing it just because I'm curious.   I'm doing it because the Bankruptcy Code requires me to do it.
Apply the Nike Doctrine
But while we don't have to like this process, we must, to borrow a line from Nike, "Just Do It."   And so you have a new hobby.   The good news is that if you follow your lawyer's advice and get him the documents required, your case will likely turn out fine.   Just remember this: It's a moving target.